EuroMillions Jackpot 🏆
143 000 000 EUR
EuroMillions Next Draw 📅
Tuesday, 2021-12-07 21:00
EuroMillions Latest Draw Results - Friday, 2021-12-03 21:00
Regular numbers
21
22
29
32
46
EuroMillions Hot Numbers 🔥
17
39
23
15
30
26
44
10
29
31
27
49
7
45
14
5
20
48
32
3
43
37
50
13
19
EuroMillions Cold Numbers ❄️
22
33
47
18
41
46
11
16
36
35
2
40
24
12
34
38
28
9
25
42
4
6
21
1
8
EuroMillions – Online Lottery Review
What is the EuroMillions Lottery?
EuroMillions is a transnational lottery game from Europe that launched on 7 February 2004 and initially was played only in UK, Spain, and France. The game between the three initial European countries was launched by France's Française des Jeux, Spain's Loterías y Apuestas del Estado, and the United Kingdom's Camelot.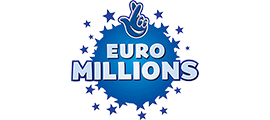 Eight months later, in 2004, Austria, Belgium, Ireland, Switzerland, Luxembourg, and Portugal, joined EuroMillions for the draw that happened on 8 October that year. Since then, the EuroMillions lottery is played across these nine European countries and has had more than 1000 draws to date.
The draw takes place on Tuesday and Friday evenings at 20:45 CET in Paris, and the minimum jackpot starts at €17 million with the possibility to reach a maximum value of €220 million. As with most lottery games in the world, if no one matches 7 out of 7 numbers and the jackpot isn't won, the amount of it rolls over to the next draw.
So, all you have to do is be the ticket holder with seven correct numbers to win the Euromillions jackpot, but we will give you all the needed answers on the exact rules of play and eligibility a few moments later.
EuroMillions Prizes and Price of Bets and Taxes per Country
Compared to other lottery games in the world, EuroMillions stacks as a solid win with massive jackpots and prizes as high as €190 Million or more. The gameplay is indeed challenging, and the odds of winning are high, about 1-in-176 million, but for such high amounts of jackpots, that is expected according to all the other reviews out there.
Additionally, EuroMillions offers large sums of jumbo prizes, which makes this lottery game excellent for those who want to play as part of a syndicate group. When won, the revenue is distributed between Camelot Group, for operating costs, retailer's commission, for Lottery duty to the UK Government, and to the winner and for good social causes.
The price of the bet for the EuroMillions lottery is €2.50, £2.50, or CHF3.50 per line played, but the exact amount will depend on the local currency where you purchase the bet.
If you are playing in Ireland, you get an exclusive option called Plus. This adds €1.00 per line and increases your chances of winning. However, you still have to get all seven numbers right to win the jackpot. In 2014 the price in France changed with their non-optional addition that they called "My Million," which now adds €0.50 per line.
In Portugal, this option is called "M1lhão" and represents €0.30 of the whole €2.50 bet. UK's Camelot also increased the price per line from £2.00 to £2.50 due to the exchange rate between pounds and euros. Spain and Ireland followed by rising the pay per line to €2.50.
The jackpot and all the other prizes won at EuroMillions are not taxable and are paid as a lump sum with the exception of Switzerland, Spain, and Portugal. In these three countries, winners have to pay taxes to the won amount since 2013.
Who can be a ticket holder for the Euro Millions Lottery?
EuroMillions is now available for online play and can be played almost anywhere in the world through their official websites. However, as we mentioned previously, there are potential scamming sites, so be careful where you are buying your bet. Since there are no restrictions on the nationality of the players, both tourists and non-residents of the nine countries can also take part in EuroMillion. The only rule that applies is that the player has to be over 18 years of age.
How to play EuroMillions Lottery?
EuroMillions lottery game rules are pretty straightforward.
When a person buys a bet, you select five main numbers. The value for these can be any, starting from 1 to 50. Then, the other two numbers have to be chosen so that the player plays for the jackpot.
These two different lucky star numbers are chosen from a selection of 12 numbers. Up until 2016, these lucky star numbers were selected from a selection of 11 numbers, but that year in September, this was increased to 12, which decreased the jackpot winning odds from 1:117million to 1:140million.
Additionally, one other change recently introduced was that a winner with matching two main numbers now also gets paid without matching the lucky star numbers. This increased the chances of winning, and an example of this is the fact that in the most recent draw, there were over 1.57 Million winners.
After each draw on Tuesday and Friday night, the results are published shortly after on the official pages for each country. Be sure to purchase the bets from licensed stores and verified online websites.
How much does a EuroMillions ticket cost?
A standard Euro Millions.com ticket price is €2.50, £2.50 or CHF3.50 per line, unless we're talking about the Irish "Plus" option which costs an additional €1.00 per line.
The New EuroMillions Jackpot Prize Structure
As of 4 February 2020, the structure of the prizes in EuroMillions slightly changed. This is the most recent update:
Main Numbers
Lucky Stars
Winning Probability
% of Prize Fund
Expected Winnings in €
2
0
1 in 22
16,59%
4
2
1
1 in 49
10,30%
6
1
2
1 in 188
3,27%
7
3
0
1 in 314
2,70%
9
3
1
1 in 706
1,45%
11
2
2
1 in 985
1,30%
14
4
0
1 in 13,811
0,26%
39
3
2
1 in 14,125
0,37%
57
4
1
1 in 31,075
0,35%
120
4
2
1 in 621,503
0,19%
1299
5
0
1 in 3,107,515
0,61%
20851
5
1
1 in 6,991,908
2,61%
200738
5
2
1 in 139,838,160
50% or 42% (X)
Jackpot
Prize guarantee fund
10% or 18% (X)
Overall
1 in13
7.71%
100%
€14
Further clarification of the table above:
(a) per entry
(b) prize fund equals 50% of sales for the main draw
(b) sales main draw equals €2.20 in pounds sterling per entry (exchange rates apply here) multiplied by the number of entries
(X) draw 1 to 5: 50% + 10% and a draw 6 (or higher): 42% + 18%
(c) they base the expected winnings on the currency exchange rate as of 7 December 2019, 1 euro = 0.8419 pound, and is rounded to 1 pound
The odds of winning any EuroMillion prize are 1 in 13
The odds of getting 0 main balls of the 50 possible, but to get 2 out of 2 lucky stars is about 1 in 115. What this tells you is that you are less likely to get two lucky stars numbers and more likely to get two main balls and one lucky stars number – the odds for this are 1 in 49.
Note that you do not get awarded for getting 2 out of 2 lucky star numbers correct with none of the rest.
The figures and calculations we stated above are just a guide of how wins are determined and shared overall. The actual amount of the jackpot and other results will vary depending on the total award for each week's draw, the prize fund, and most importantly, on the number of winners for each prize.
EuroMillions has a Prize Guarantee Fund that is formed to contribute to the winning jackpot. It serves to boost the initial jackpot prize in a sequence of growing jackpots. The amount in the Prize Guarantee Fund that is utilized at each week's draws gets determined beforehand by each country's participating lottery.
Significant EuroMillion changes as of 2020
At the beginning of 2020, the EuroMillions jackpot cap was increased to €200,000,000. However, this amount isn't the largest that the jackpot can reach. The most significant change is that if a jackpot hits €200,000,000, and no one wins it for two and a half weeks or five draws in total, then on the fifth draw, the lower tier gets the jackpot.
During the five draws, the jackpot will stay the same, at €200,000,000, and in the next cycle will be set with a €10,000,000 increase. This brings the total jackpot prize to €210,000,000. After this increase, again, the payout of the jackpot takes place in the fifth final draw of the cycle, and it stays fixed for five more draws.
This will go on until someone wins the jackpot, and it is possible that the award will increase to 220, 230, 240, and a maximum of 250,000,000 euros.
The EuroMillions Trust
Having the best interests of each winner in mind, all the national lotteries that participate in the EuroMillions lotteries have decided to form a EuroMillions trust account. The funds in the trust are used to settle the due amounts as well as to cover the payments for future prizes.
Lastly, this trust account also protects all the lotteries that participate in EuroMillions between them.
Special EuroMillions Draws Review
There are unique draws in this lottery that are called Super Draws and Event Draws. There are differences between the two, but the one thing that stays the same is that the jackpot is €100,000,000, and that amount is a guaranteed win.
The Super Draw jackpot draw after draw rolls over when it isn't won, increasing the potential prize. On the other hand, the Event Draw jackpot does not roll over but instead is distributed among the players that got 5 + 1 numbers matching or the next lower tier.
The updated distribution of the prizes from 2020
The revenue collected from the EuroMillions lottery is distributed as follows:
Breakdown of EuroMillions Revenue
0.5%
In profit to Camelot UK lotteries Limited
4.5%
In operating costs
5%
In commission to the retailers
12%
To the UK government
28%
For good causes
50%
To the winner
Additional EuroMillions review aspects
Up to date, the Euromillions lotteries have produced approximately 2,386,927,460 winners all across the globe. This makes the game legit and worth playing, even with such high odds of winning the final prize.
The EuroMillions mobile app
You can download the official mobile application for Euromillions lottery that is supported by both the Android and iOS systems. It is easy to use and offers a full review of past and current draws, prize breakdowns, number generators, and more valuable features.
EuroMillions Promotions
Apart from the main game with the massive EuroMillions jackpot, there are many promotional programs and bonuses offered as an additional benefit to the players. These include:
UK Millionaire Maker
EuroMillions Super Draw
Millionaire Raffle
EuroMillions Plus
MegaWeek
EuroMillions Money Bank Transfer
EuroMillions accepts Euros for their bets. They do not have a bet scan option, and you can buy the bets either online or at an authorized retail store. They do offer a card payment method that is called Direct Debit. Withdrawals from the Direct Debit depend on the country where EuroMillions is played in, as each European country has different requirements.
For instance, if you are playing from the UK and you win anything less than €500, you get your money transferred directly onto your National Lottery account or bank account without any holdups.
For wins from €500-€30,000, players get their money via bank transfer or directly to a debit card that they have registered online previously. Prizes of €30,000 or above must be claimed in person. All prizes have to be claimed within 180 days regardless of the money transfer method.
On the other hand, if you are a winning player in Austria, prizes of up to €1000 will directly be paid to your online account without any issues or holdups. If you win a Millionaire Maker or EuroMillions prize larger than €1000, you receive the money directly into your registered bank account within four weeks.
In Austria, a winning player has a 3-year period to claim their win, and jackpot winners get an email notification. It is advised that you contact your country's regulatory bodies or the national lottery that is involved with EuroMillions for further detail.
EuroMillions Customer Service Review
EuroMillions players that have answers can get customer support on the official website through the Contact Us page. They do not offer a phone line or a live chat, but on that page, you can find the lottery's email address, postal address, and company registration information. Additionally, EuroMillions have an FAQ page containing all the questions most commonly asked by players with informed answers.
Is EuroMillions Lottery a legit game?
Based on our review and the national lottery commission, yes, EuroMillions is a legit game and has a general UK website. However, you can find it on many other website pages across the internet because it is pan-European and played in nine different countries. This is why it has multiple sister websites, and a person may get confused when reading different reviews and looking for answers.
The only problem with the EuroMillions lottery is that there are a few scamming websites that present themselves as official dealers when in reality, they are rip-offs. EuroMillions game is a large platform scattered across Europe and is played worldwide, so it is normal to have many sister websites and those who try to scam players. This is why sticking to the official website is always advised.
Pros
EuroMillions offers higher jackpots than other national lottery games
The lottery is syndicate-friendly
Cons
The winning odds are very high
Due to the popularity of the game, many scamming websites have appeared, so players must be careful of where they play this lottery online